The 1,000 Bikes Campaign raised more than $75,000 and was led by LO Ambassadors who hosted bike rides and community events around the world inspired by the bravery of young women who challenge harmful gender narratives to pursue their dreams of education, empowerment and sustainable change at home. 1,000 Bikes was initially conceived to meet our goal of providing 1,000 bikes for access to education for our beneficiaries but it's immense success led us to dedicate the funds raised from events to access to education programs and scholarships for the girls that LO supports. We are delighted to introduce you to 1,000 Coffee which is the next iteration of this amazing worldwide community event. We invite you to join us! Spread the word, make a monthly gift, or host a ride! Learn More.
At LO a $75 gift can supply a girl with a bike, a pump, a lock, tools and requires the students' guardians to sign a contract that states they will keep their child in school for at least two years. $250 can ensure she has a seat on a bus to school in one of the most regressive areas in terms of girls education in all of India. $550 ensures a scholarship for a junior high or high school girl from some of the most rural and poor regions of Cambodia. $2,500 can ensure she receives year-long university scholarship and mentorship in Cambodia or a $10,000 gift supports a four year university scholarship.

Get Involved
I. Host a bike ride event!
II. Engage your local rotary, corporate giving program, or bike shop.
III. Host a dinner for LO.
IV. Get creative!
Contact Maya Norbu, Community Associate, at maya@loutsoutreach.org to learn more, receive branded promotional content, and/or support for your 1,000 Bikes Campaign event.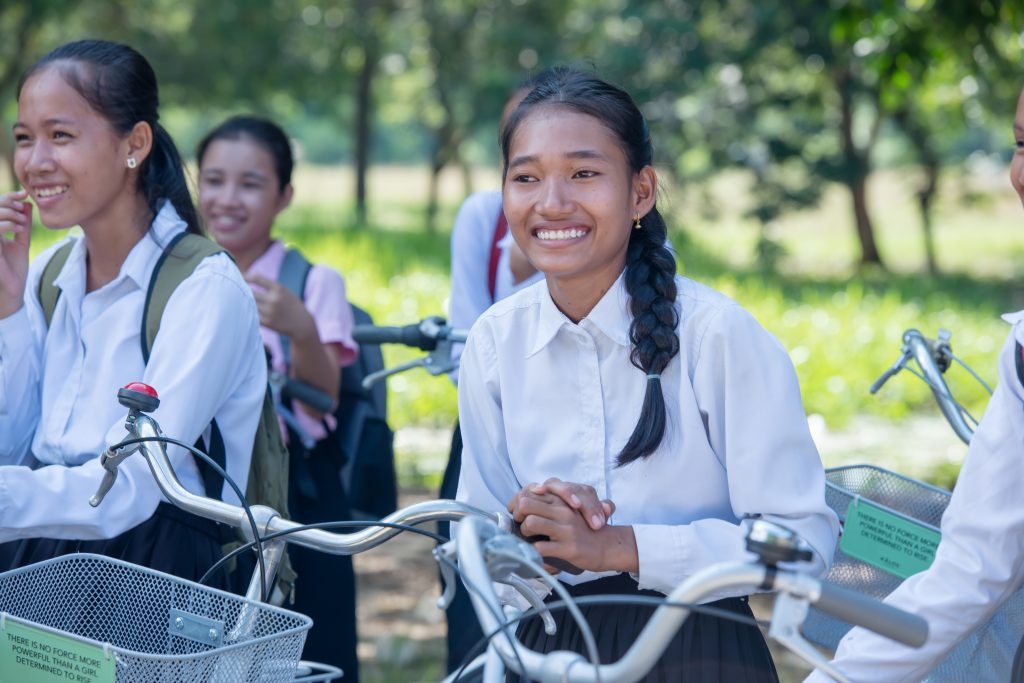 Past Events
Riding for Girls #Taiwan July 2020
LOCATION: Taiwan
HOSTED BY: April Cheng
RAISED: $28,281
"During the ride, there was one moment that I felt exhausted and wanted to give up, but when I think it could help the girls, I just felt I have more energy to go on." — April Cheng, Taiwan
Global Focus Fundraiser November 2019
LOCATION: Saratoga Elementary School
HOSTED BY: John Havens (5th grade teacher), Ati Sheynkman (5th grader), and Yulia Sheynkman (mom)
RAISED: $4,600
"Our goal was to raise as much money as we could, so we could help change girls' lives in Cambodia." — Jon Havens, 5th grade teacher at Saratoga Elementary School
A Ride Across Taiwan September 2019
LOCATION: Taiwan
HOSTED BY: Chye Yee, Evie Loo, Kai Hartmann, and David Eldor
RAISED: $25,353
"I have always believed that the simple movement of pedaling can bring us places. It meant the world to me, to be able to ride in honor of Lotus Outreach and use that same simple movement of pedaling to echo Lotus Outreach's mission."— Chye Yee, Malaysia
"As someone who believes that bikes and education can significantly improve quality of life, I hope that "Ride across Taiwan" has helped Lotus Outreach achieve their goals. I am proud to be part of that ride!" — David Eldor, New Zealand
1,000 Bikes Campaign April 2018 & May 2019
LOCATION: Santa Ynez, California, USA
HOSTED BY: Tsering Hauenstein and Kristi Hundt
RAISED: $14,657
"What has made the Santa Ynez events so special for me is the power of generosity which is stretching across the world. It is beautiful to see people supporting people on the other side of the planet whom they will never meet." — Tsering Hauenstein, Santa Ynez
Sponsors