Against All Odds: Education Quality Addition (EQU+) & Buddha Smiles during Lockdown
The covid-19 pandemic has had an unprecedented effect on education around the world, it is the largest interruption of schooling in history with 1.5 billion students out of school across 190 countries.
The missions of our EQU+ and Buddha Smiles programs were well aligned during the pandemic. The students enrolled in these programs are children of largely illiterate laborers, often first generation learners. A 2020 UNICEF India report tells us six million children from such marginalized communities are out of school. 30% of children drop out before completing elementary school, largely due to the fact that they can't keep up with their studies. The COVID-19 pandemic has made the need for support and encouragement to stay in school even more urgent. We are delighted to report that EQU+ and Buddha Smiles are running despite strict lockdown regulations in place in India, ensuring the students in our programs have access to education– against all odds. [1]
EQU+
EQU+ is an after school program operating in Northwestern slums of Delhi, India. The program is run by volunteers who are also from these same communities. There are currently 24 centers serving roughly 720 students who, due to lack of support, would likely not progress past primary school. Classes run for two hours, six days a week in addition to student's regular school curriculum. During class time, storytelling, dance and drawing are utilized to inspire creative expression and promote a joyful, positive environment for learning.
While the focus of the program is to provide educational support to these underprivileged children of migrant workers, EQU+ has also become a central aspect to the communities it serves. Centers provide an uplifting environment for children while their parents are at work as well as a space for parents to discuss community issues and support their children's access to education.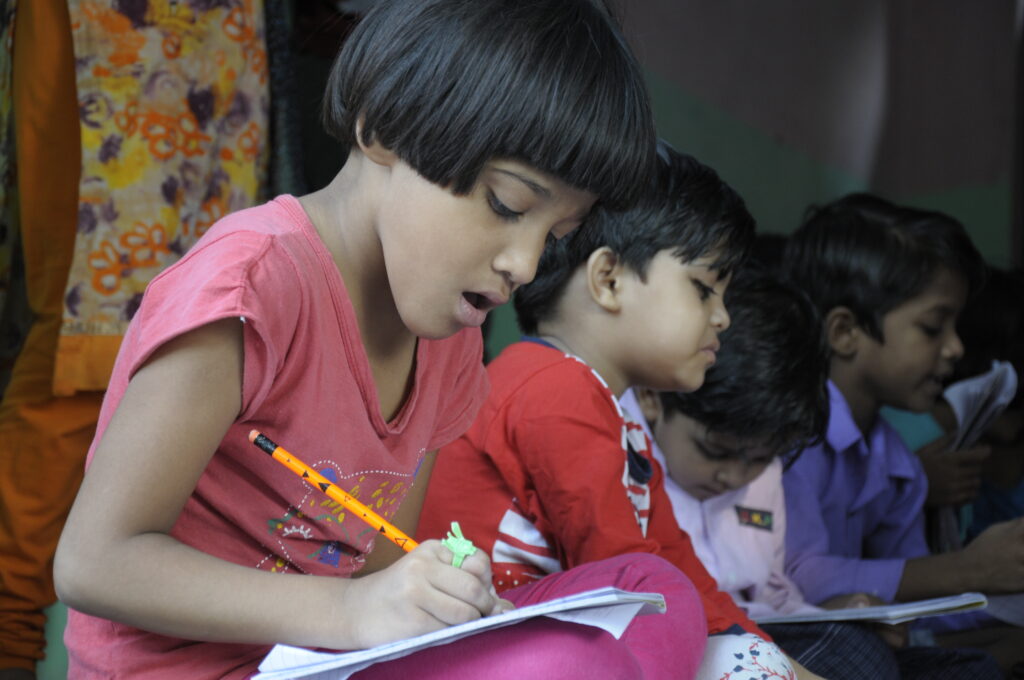 Our volunteers and teachers have worked tirelessly throughout the pandemic, responding to the emergency needs of communities with tremendous dedication and energy. Early on, volunteers arranged to prepare and deliver almost 8,000 meals and emergency rations to the most in need families in their slum communities. Throughout the nation-wide lockdown, teachers checked in on students and families regularly and identified solutions to problems raised by the pandemic.
Teachers went door to door and took count of which students had access to the internet and would be able to engage with the online learning made available by the government. Those without access were given print outs of homework and EQU+ teachers offered support when needed. Younger students were provided materials for painting and drawing, which kept them engaged in creative means of expression. Thanks to all of this crucial support, students and families didn't lose track of the importance of education even throughout the pandemic.
We would like to thank our partners Douglas Polunin, the Douglas A. Campbell Foundation, and Max India Foundation for their generous commitment to serving these student's futures through our EQU+ learning centers. Douglas Polunin supports two centers annually; DACF supports two centers annually; and MIF supports 20 EQU+ learning centers!
Buddha Smiles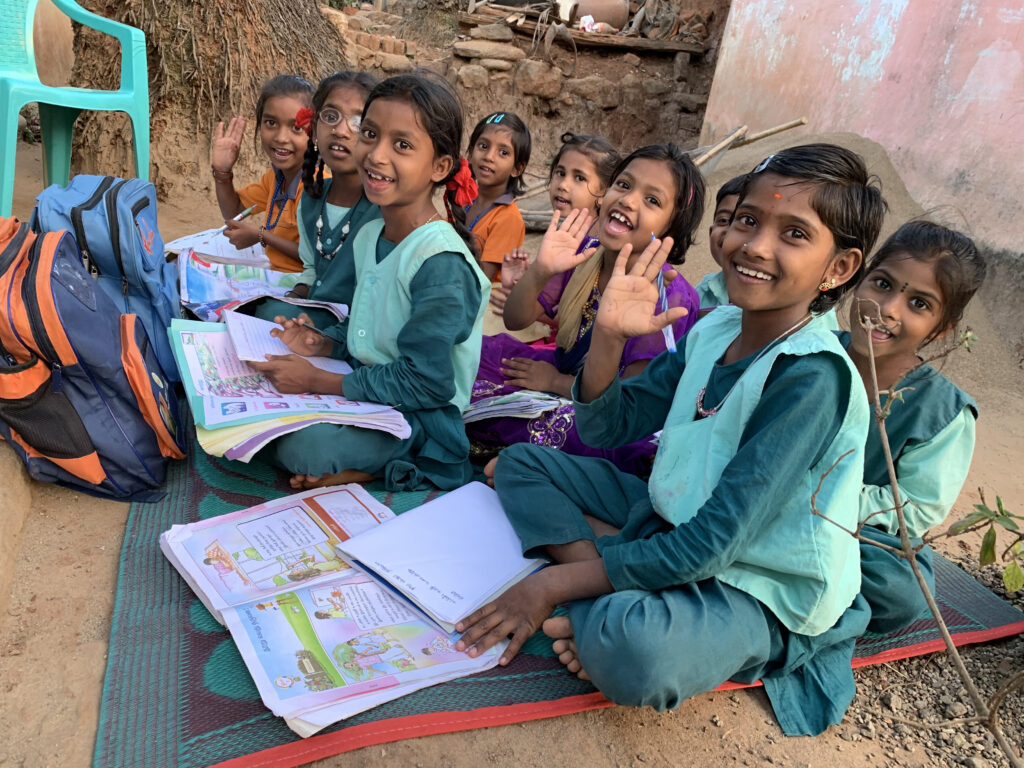 Buddha Smiles provides after-school education and tutoring to children of illiterate laborer and ethnic tribal villages in Tamil Nadu. Buddha Smiles has served 4,733 children since 2002 and currently runs 15 learning centers serving 550 children in an even mix of boys and girls. Born into the most impoverished of circumstances, the educational support these children receive helps break the cycle of poverty by ensuring they have the support they need to stay in school.
The lockdown in Tamil Nadu has been very strict and operations have had to be carried out with utmost care and sensitivity. Professor Manivannan, founder and director of Buddha Smiles told us, "We have to run the project in the shadows of the trees." Government organized online learning proved a challenge for many of the children participating in Buddha Smiles due to a lack of access to power supply and/or to the internet and sufficient technology.
Buddha Smiles teachers and volunteers responded by restarting in person classes in very small groups, strictly adhering to personal protection and hygiene through social distancing, wearing masks, and requesting children to wash their hands very regularly and especially before classes. Project coordinators provide printed out lesson plans and deliver them to teachers at all 15 centers . Children do their work at home and then come to class with questions and completed work for correction. These ongoing efforts keep the light of education burning in the minds and hearts of families, ensuring children's continued engagement in their studies. Ultimately, this support will ensure children can return to school and pass to the next grade level.
We would like to thank Guru Krupa Foundation for their generous and dedicated commitment to annually supporting the Buddha Smiles program.
Lotus Outreach's ongoing efforts are ensuring the wellbeing of thousands of children living in poverty across the country. Our continued support before, during, and after the pandemic is imperative.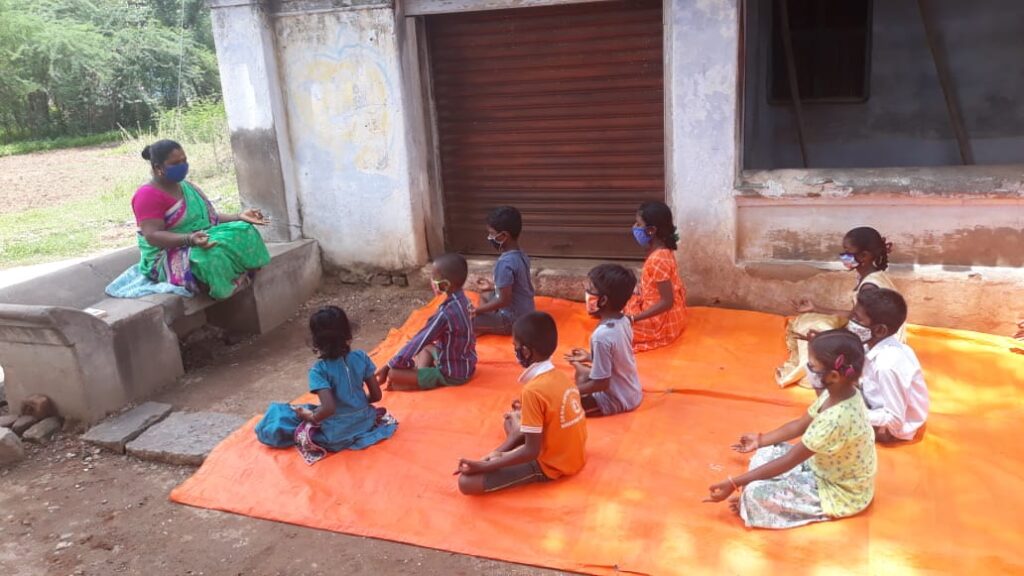 [1] https://www.unicef.org/india/what-we-do/education (2020)