Young Leaders Panel for CATALYST Scholars
CATALYST (Cambodian Tertiary Education + Youth Training) provides GATE graduates and high performing high school graduates from low-income Cambodian families with scholarships, rice support, leadership training, and mentoring so they can pursue their dreams of studying at the university level.
As a part of our CATALYST program, Lotus Outreach Cambodia (LOCAM) organizes workshops for CATALYST scholars to encourage scholars to engage in meaningful conversations and professional training that go beyond the scope of their academic studies. In July, LOCAM hosted the first ever panel discussion for CATALYST scholars around the theme of 'Young Leaders.' LOCAM identified three professionals from different fields to participate in the panel discussion. The aim was to inspire scholars with stories and experiences from these three successful professionals and give them the opportunity to ask questions and set personal goals.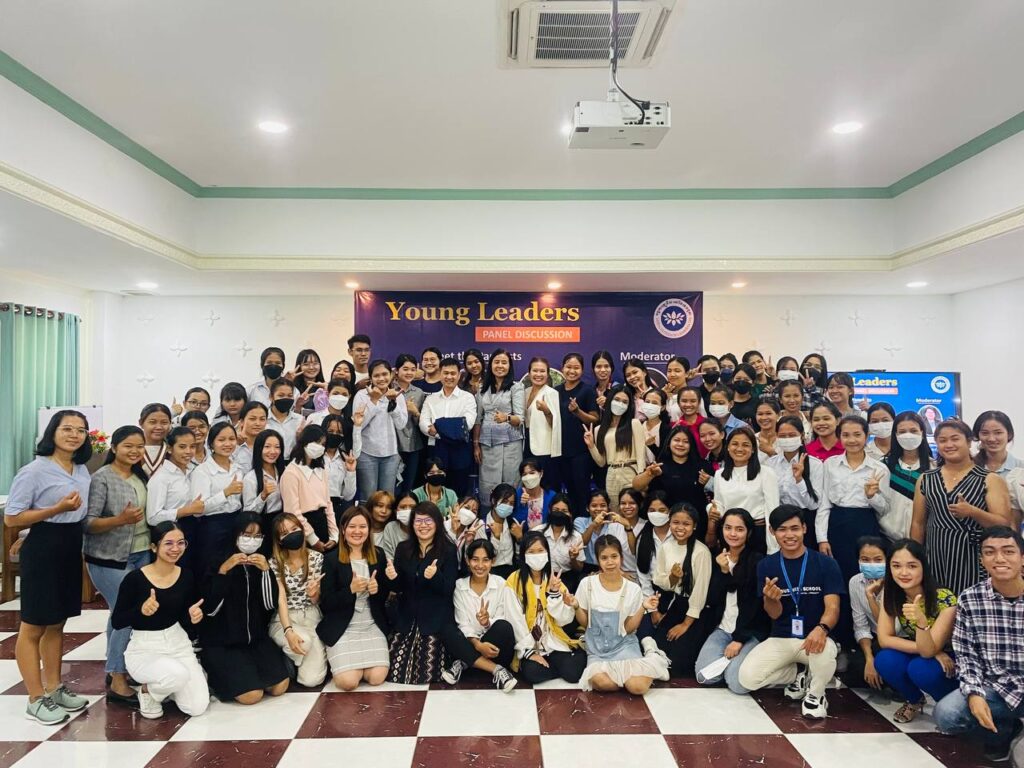 As the word spread, many other institutes expressed interest in attending the discussion and the event was finally capped at 82 participants including 38 CATALYST university scholars, 17 GATE scholars who are in their final year of high school, as well as students and staff from LSI Business School, Happy Chandara School, Cambodian Women's Crisis Center, and even some CATALYST alumni!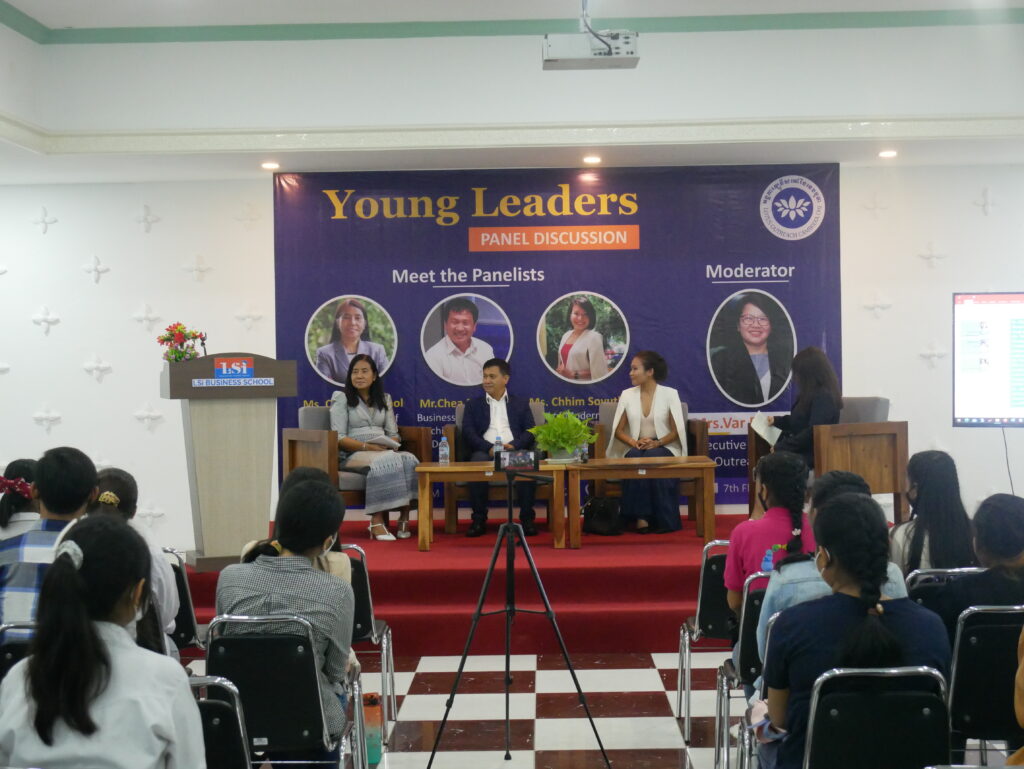 The panelists included Mrs. Chanthol Oung, Mr. Bunseang Chea and Ms. Sovuthika Chhim:
Mrs. Chanthol Oung who is currently serving as Executive Director of the Women's Media Centre of Cambodia (WMC). She has worked for organizations in both Cambodia and the US and is also the co-founder and served as Executive Director of Lotus Outreach partner Cambodian Women's Crisis Center for more than ten years.
Mr. Bunseang Chea is a CEO at Architecture Practice Design Company. Before this, he worked as an architect and researcher with various organizations both in Cambodia and abroad including the United Nations and the World Bank.
Ms. Sovuthika Chhim is the Head of Modern Trade at Smart Axiata, one of Asia's leading telecommunications groups. She also volunteers as a Women Leadership Mentor with Wedu Global, a social enterprise based in Bangkok, to promote the advancement of women in tech by providing mentorship and leadership skills.
After this introduction, the conversation opened up to questions from attendees. Scholars were excited to have such an impressive group of panelists and asked many questions about leadership mentality and success. They were inspired to hear of the unique challenges that each of the panelists faced in achieving their goals and came to recognize the potential of challenges giving way to strength that would ultimately support growth.
Some CATALYST scholars shared their reflections following the discussion:
"The Young Leaders Panel Discussion was a very fruitful and valuable experience for me. The speakers were very intelligent and have given me so many important tips… [They] taught me so much about helping others, no matter how big or small your contribution is, it is still important."
– Sreymoon
After participating in the Young Leaders panel discussion, I felt that all the speakers were such great people as they were able to become very successful in their career. My favorite speaker was Mrs. Oung Chanthol, because she has studied in many different countries, especially Harvard University, which is my dream university. She worked very hard in order to overcome her obstacles. I felt so lucky to have been able to sit down and listen to her life experiences and her statements about leadership. I would like to ask Lotus Outreach to create more good training courses for us to take as an example and a path to move forward and pursue our goals. Finally, I would like to say thank you to Lotus Outreach and staff of the CATALYST project for creating such a fruitful panel discussion.
-Sreynich
"After listening to the panel discussion, for me personally, I feel very happy to attend this session. The speaker shared so much about their own personal experiences and their life lessons. There were some sad stories as well as some funny ones which made me listen attentively without feeling bored or sleepy. All three of them made me understand, "Who is a leader?", "What is the point of being a good and successful leader?" and how to become a good leader towards yourself, your family, your workplace, as well as your community. We learned points that will make us a leader who is respected and loved by those around us. Finally, I love the statement, "Do not think of every problem as an obstacle, but as an opportunity to grow and be more valuable."
-Synan
We are so thrilled that LOCAM was able to facilitate this discussion and hope to continue to foster relationships that inspire and ignite these scholars as they reach for their dreams and go on to benefit their families and communities.