LotusRelief #GivingTuesdayNow | A Global Day of Giving and Unity May 5, 2020
A global threat like COVID-19 affects every person on the planet, and it presents an opportunity to come together as a global community. In light of this, Lotus Outreach International is joining #GivingTuesdayNow | A Global Day of Giving and Unity to bring attention to the emergency needs presented by the consequences of the corona pandemic around the world and for our beneficiaries. We have established LotusRelief, an initiative to meet the urgent needs of the vulnerable communities we serve during crisis.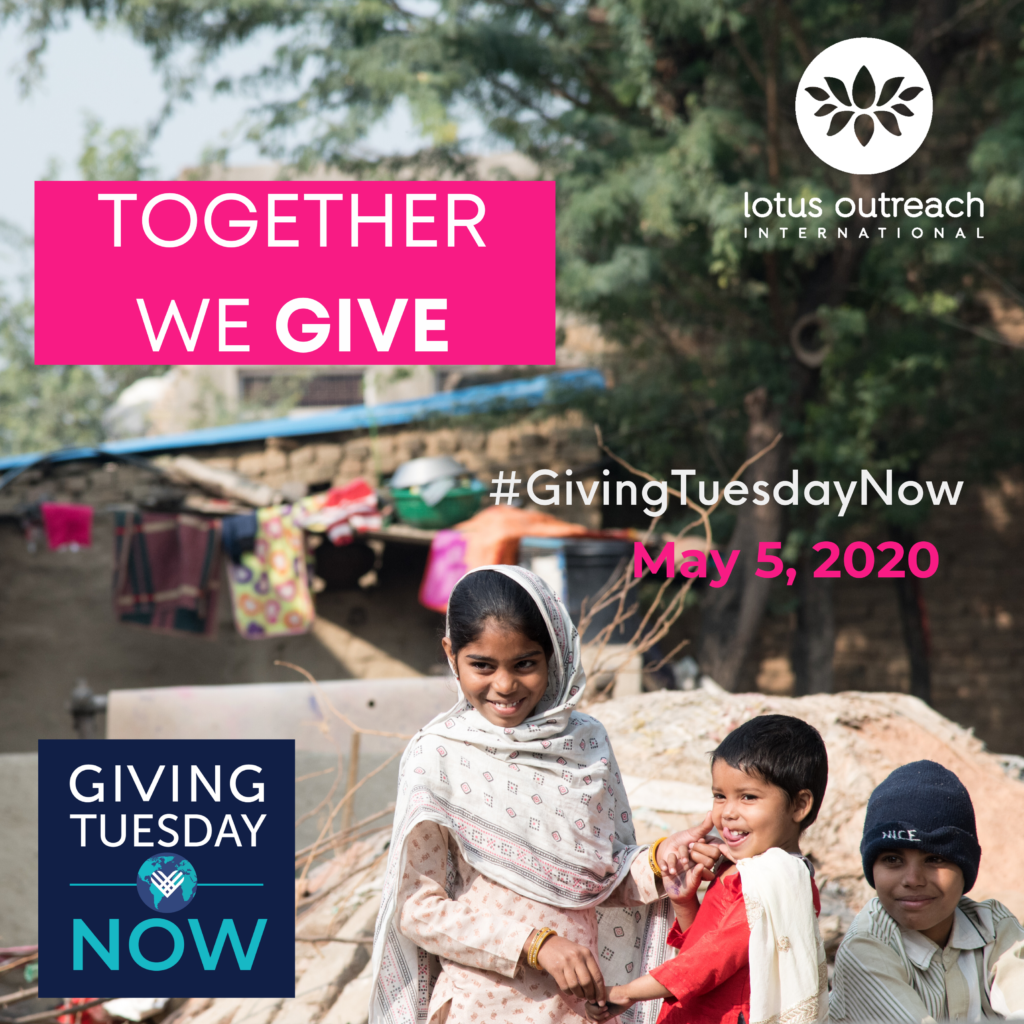 During a crisis it is always the poor and most vulnerable people that suffer the most. The conditions for those already disadvantaged by poverty worsen and access to basic resources becomes even more scarce. The communities we work with already live on the fringes of society, where daily nutrition, water, sanitation, health services, and education are severely limited, exploitation and childhood marriage are a norm, and abuse is disturbingly common. For the young women, girls, children, and families we serve, we must do something.

We've spent the last 25 years dedicated to grassroots community based programs that empower and protect the most vulnerable people in India and Cambodia, especially women and children. We run 17+ programs with local offices and partners serving 14,000 people each year. We are positioned to respond to the devastating consequences of the coronavirus as a result of our long-term local networks and dedicated beneficiaries.

LotusRelief is a direct outcome of our engaged community-based approach to sustainable change. Our work is shaped at the local level in collaboration with long-term networks and in conversation with the urgent needs of community members. In the weeks since India went into lockdown and Cambodia announced the closure of all schools, our team and partners are doing everything we can to support the vulnerable people we serve.

There is so much we can do to lessen unnecessary suffering in our world. We hope that joining the #GivingTuesdayNow global movement will remind us of the power of this moment to bring us together for humanity.

We want to spread awareness about the work of Lotus Outreach International and offer people a way to give that can make a difference now for vulnerable lives. Our goal for #GivingTuesdayNow is 14K. The amount we raise is directly proportional to the number of families we can help during this crisis. Please help us to spread the word.
Here's how:
Share this content with at least 5 people in your network and encourage them to subscribe to LO
Repost on social with hashtags #LotusOutreach, #LotusRelief and especially, #GivingTuesdayNow
Add #GlobalTuesdayNow to your calendar
Already we have received contributions from two long-term partners, The Douglas A. Campbell Foundation and Buddhist Global Relief, to provide emergency food rations to the families most in need as well as masks, soap, and COVID-19 education. See the full list of our May expenses here.
We want to inspire as many people as possible. We can do something and so we must.
Want to be an ambassador of LotusRelief? If you have a connection to make for LotusRelief or want to connect, write to Associate Director of Communications, Alexandra Land, at alex@lotusoutreach.org.
If you would like to inquire about making a gift, write to Associate Director of Giving, Genevieve Waltcher, at genevieve@lotusoutreach.org.
We are doing everything we can to meet this moment. Join us.
Read about LotusRelief in India and Cambodia in our next post!