A Ride Across Taiwan
Read this in English | 繁體中文 | 中文
In 2018 we launched our 1000 Bikes Campaign as a way to involve our international volunteer community while also raising funds for Lotus Pedals. Lotus Pedals provides bike scholarships for women and girls in India and Cambodia, living too far from the nearest school to walk. These scholarships include a heavy-terrain bicycle and a two-year commitment to school. They are crucial to the girls' continuing education.
Through Lotus Pedals a $75 gift supplies a girl with a bike, a pump, a lock, tools, and require the students' guardians to sign a contract that states they will keep their child in school for at least two years. A $1,500 gift can ensure she receives year-long support and scholarship at university. For the Ride Across Taiwan, your donation will contribute to bike, high school, and university scholarships.

Imagine our delight when, only a few months after we launched the 1000 Bikes Campaign, we received an email from Chye Yee, a Malaysian living in Shanghai, China. Chye said she had been perusing our website and found the "Get Involved" button and wanted to do just that. She shared with us an idea to ride her bike across Taiwan in honor of the campaign with her friends, Evie Loo and David Eldor.

The ride itself would be a loop around the island, measuring just under 1,000 km. Not only would they friends ride in support of the campaign, they would also be celebrating their birthdays. This year, Chye will turn 40. Evie, 50. "Some call it healthy, some call it a mid-life crisis, some say we are brave," Chye shared. "To us, it is just fun!"

Chye immediately got down to business, creating an itinerary for what we are now calling 'The Ride Across Taiwan' for the 1000 Bikes Campaign. Their ride will begin at the GuanDu Wharf, Taipei City on September 11 and end in XiaoGeTou, New Taipei City on September 19. The mileage on their shortest day of their trip will be 81 kilometers and the longest day will be 125 kilometers.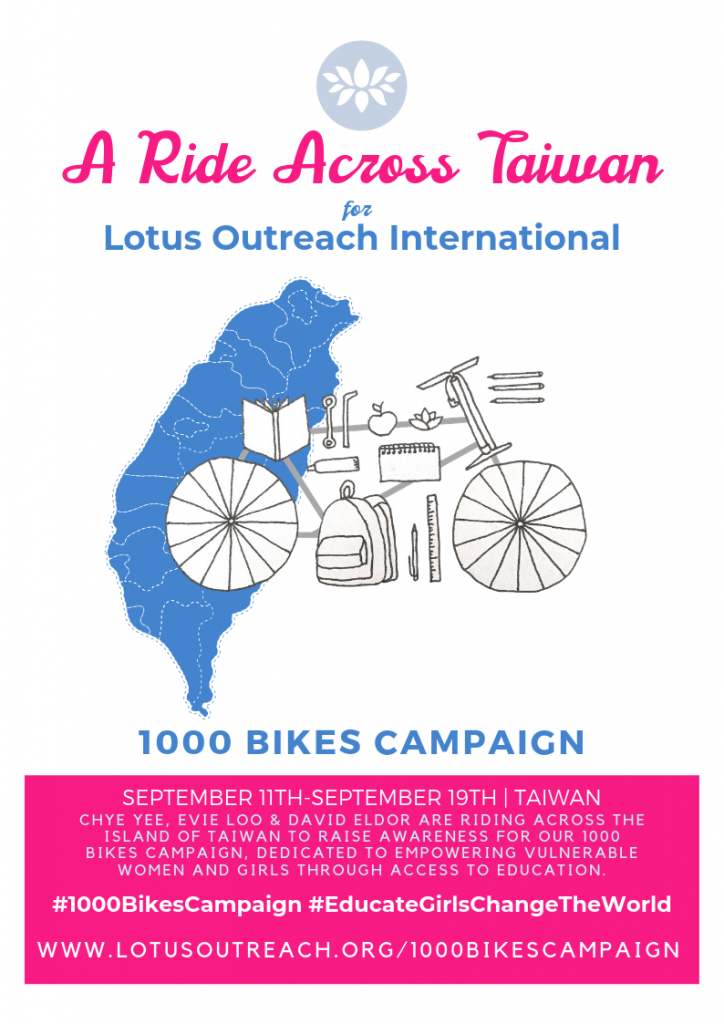 Chye, Evie, and David have been long distance riding buddies for years. During their rides they like experiencing different places and welcoming the sceneries, muscle pain, fatigue, wind, rain and every element the adventure has to offer. "At the end of each day, when we feel like we have accomplished something," Chye shared, "we will treat ourselves to an ice-cold beer as we raise our feet and share laughs." Through this ride, miles will translate into funds and awareness raised for the brave women and girls in our Lotus Pedals program.

Bravery, as Chye said, is one of the words that could be used to describe these three riding buddies as they set out on a 1,000 km bike ride of uncharted territory. Bravery is also a word we use to describe the young girls in Lotus Pedals who are charting new territories in their communities through their pursuit of higher education.
These girls are brave as they challenge gender disparities. They are brave for knocking down barriers. They are brave for believing in their own empowerment. As we know, an empowered girl/woman is a force to be reckoned with and we are so grateful for our ambassadors and our beneficiaries who demonstrate courage and inspire us! It is because of partnerships like these that we are able to create long-lasting, sustainable change in areas of the world in greatest need.

A special thank you to Chye, David, and Evie for piloting 'The Ride Across Taiwan' in support of the 1000 Bikes Campaign! Know that it is with your enthusiasm and sense of adventure that so much is accomplished both collectively and internationally to empower women and girls living in poverty. We couldn't do it without you.

Inspired by the Lotus Outreach International mission? There are so many ways to be a part of our wonderful community! Please join us. You can:
Follow the Ride Across Taiwan on Instagram, Facebook and/or Twitter
Learn more about girls' access to education through Lotus Pedals
Thank you for your support!
*For the purpose of The Ride Across Taiwan, contributions are unrestricted. LOI will apply funds to programs with the greatest need, prioritizing the education of girls.
___________________
我們在2018年啟動了千架單車徵集運動,讓國際義工組織參與,也同時為Lotus Pedals籌集資金。 Lotus Pedals在印度和柬埔寨為居所遠離學校,而無法走路上學的婦女和女孩提供單車獎學金。這些獎學金包括一架適合泥濘地形的單車和兩年的上學承諾。這些對女孩們持續接受教育至為重要。
通過 Lotus Pedals,每一份 75美元的禮物,它包含了一架單車,一個氣泵,一個車鎖和一些工具,同時也要求學童的父母或者監護人簽訂協議書,規定他們讓孩子繼續接受至少兩年的學府教育。 一份 1500美元的禮物可以保障一個學生一年度的大學費用和獎學金。 在這次"台灣環島騎"活動中,您的捐款將直接幫助學童在單車, 高中和大學的獎學金。
就在啟動了千架單車徵集運動的短短幾個月後,我們非常高興的收到來自中國上海的馬來西亞女生Chye Yee捎來電郵, 說她在瀏覽我們的網站時看到"參與其中"的按鈕,觸發了她參與的念頭。她和我們分享了她以及騎行夥伴 Evie Loo和 David Eldor 計劃騎單車環繞台灣的概念。
此次騎行的路線是環島一圈,全程將近1000公里。 Chye年屆40,而Evie 50, 所以同伴以行動來支持, 並為他們慶祝生日。 Chye說"有人認為是健康,有人稱之為中年危機,也有人說我們很勇敢。然而對於我們來說, 這很有趣!"
Chye馬上著手籌備,為千架單車徵集運動制定了目前的 "台灣環島騎"行程。三位騎手將於9月11日在台北市關渡碼頭出發,並於9月19日在新北市小格頭結束。行程中最短的日程為81公里,最長的日程為125公里。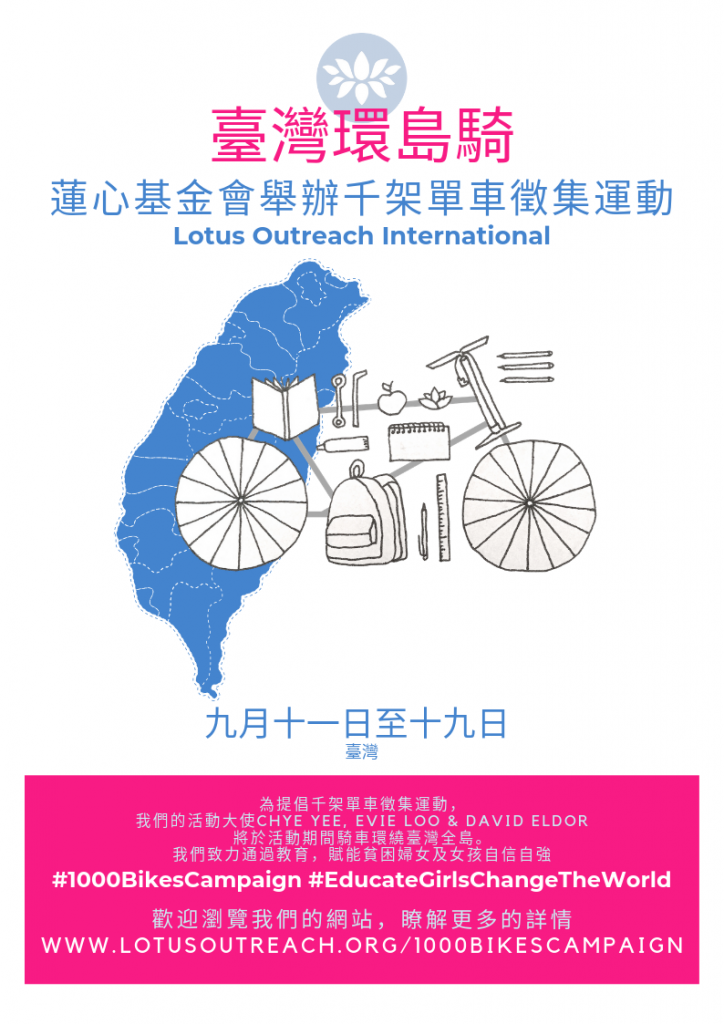 Chye、Evie和David是多年的長途騎行夥伴。他們喜歡騎車到訪不同的地方,細味旅途的一切, 一塊經歷途中的風景、肌肉疼痛、疲勞和大自然裡的風雨洗滌。 Chye也分享"一天終結,當我們感覺好像有什麼小成就的時候, 我們就以冰凍啤酒奬勵自己。高興的舉起雙腳,共同歡笑。"通過這次騎行,單車行走過的里數可以轉化成善款和關注,支持Lotus Pedals計劃裡勇敢的婦女和女孩。
Chye說, 勇敢這個字的卻適合用來形容他們這三個騎行夥伴,畢竟這是他們首次在台灣, 這個他們並不熟悉的地域展開1000公里的騎行旅程。勇敢, 更適合形容Lotus Pedals所支持的年輕女孩,因為他們在資源相對有限的環境裡, 努力爭取接受更高的教育,開拓新的領域。
這些女孩勇敢的挑戰性別不平等。勇敢的抗禦障礙,她們有勇氣相信​​自己確有自主權。我們都知道,賦能女孩和婦女掌握自己命運後,將形成一股不可忽視的力量!我們非常感謝我們的活動大使和我們的受益者,她們展現出勇氣並持續的激勵著我們!正是由於這種夥伴關係,我們能夠在世界上最有需要的地區創造長遠和永續的改變。
在此特別感謝Chye、David和Evie領航 "台灣環島騎"活動。只有您的熱情和冒險精神,才能讓我們一起跨越國界,攜手幫助生活在貧困中的婦女和女孩。沒有您我們不可能做到。
您也受到蓮心基金會的使命鼓舞嗎?今日就一起參與其中吧!
台灣環島騎"所籌得之捐款不受限制。蓮心基金會將把資金用於最需要的項目,優先考慮女孩的教育。

FACEBOOK | INSTAGRAM | TWITTER  
LOTUS OUTREACH HONG KONG ON FACEBOOK
___________________
我们在2018年启动了千架单车征集运动,让国际义工组织参与,也同时为Lotus Pedals筹集资金。Lotus Pedals在印度和柬埔寨为居所远离学校,而无法走路上学的妇女和女孩提供单车奖学金。这些奖学金包括一架适合泥泞地形的单车和两年的上学承诺。这些对女孩们持续接受教育至为重要。
通过Lotus Pedals,每一份75美元的礼物,它包含了一架单车,一个气泵,一个车锁和一些工具,同时也要求学童的父母或者监护人签订协议书,规定他们让孩子继续接受至少两年的学府教育。一份 1500美元的礼物可以保障一个学生一年度的大学费用和奖学金。在这次 "台湾环岛骑"活动中, 您的捐款将直接帮助学童在单车, 高中和大学的奖学金。
就在启动了千架单车征集运动的短短几个月后,我们非常高兴的收到来自中国上海的马来西亚女生Chye Yee捎来电邮, 说她在浏览我们的网站时看到 "参与其中"的按钮,触发了她参与的念头。她和我们分享了她以及骑行伙伴 Evie Loo和 David Eldor 计划骑单车环绕台湾的概念。
此次骑行的路线是环岛一圈,全程将近1000公里。Chye年届40,而Evie 50, 所以同伴以行动来支持, 并为他们庆祝生日。 Chye说:"有人认为是健康,有人称之为中年危机,也有人说我们很勇敢。然而对于我们来说, 这很有趣!"
Chye马上着手筹备,为千架单车征集运动制定了目前的 "台湾环岛骑"行程。三位骑手将于9月11日在台北市关渡码头出发,并于9月19日在新北市小格头结束。行程中最短的日程为81公里,最长的日程为125公里。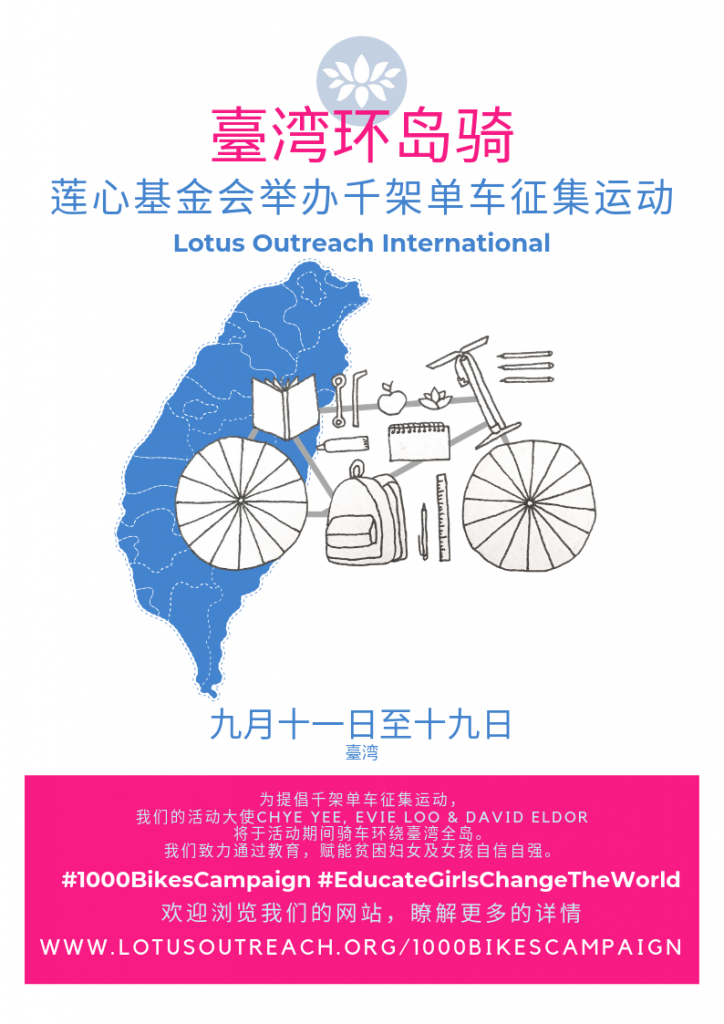 Chye、Evie和David是多年的长途骑行伙伴。他们喜欢骑车到访不同的地方,细味旅途的一切, 一块经历途中的风景、肌肉疼痛、疲劳和大自然里的风雨洗涤。Chye也分享:"一天終結,当我们感觉好像有什么小成就的时候, 我们就以冰冻啤酒奬励自己,高兴的举起双脚,共同欢笑。"通过这次骑行,单车行走过的里数可以转化成善款和关注,支持Lotus Pedals计划里勇敢的妇女和女孩。

Chye说, 勇敢这个字的却适合用来形容他们这三个骑行伙伴,毕竟这是他们首次在台湾, 这个他们并不熟悉的地域展开1000公里的骑行旅程。勇敢, 更适合形容Lotus Pedals所支持的年轻女孩,因为他们在资源相对有限的环境里, 努力争取接受更高的教育,开拓新的领域。
这些女孩勇敢的挑战性别不平等;勇敢的抗御障碍;她们有勇气相信自己确有自主权。我们都知道,赋能女孩和妇女掌握自己命运后,将形成一股不可忽视的力量!我们非常感谢我们的活动大使和我们的受益者,她们展现出勇气并持续的激励着我们!正是由于这种伙伴关系,我们能够在世界上最有需要的地区创造长远和永续的改变。
在此特别感谢Chye、David和Evie领航 "台湾环岛骑"活动。只有您的热情和冒险精神,才能让我们一起跨越国界,携手帮助生活在贫困中的妇女和女孩。没有您我们不可能做到。
您也受到莲心基金会的使命鼓舞吗?今日就一起参与其中吧!
台湾环岛骑"所筹得之捐款不受限制。莲心基金会将把资金用于最需要的项目,优先考虑女孩的教育
FACEBOOK | INSTAGRAM | TWITTER
LOTUS OUTREACH HONG KONG FACEBOOK