Our Trip to Cambodia
In mid-January members of Lotus Outreach International Board of Directors and staff team took a trip to Siem Reap, Cambodia to visit Lotus Outreach Cambodia (LOCAM) and the young women, children and families that we support. The programs we visited—and especially the young women we encountered— have left indelible marks on our memory.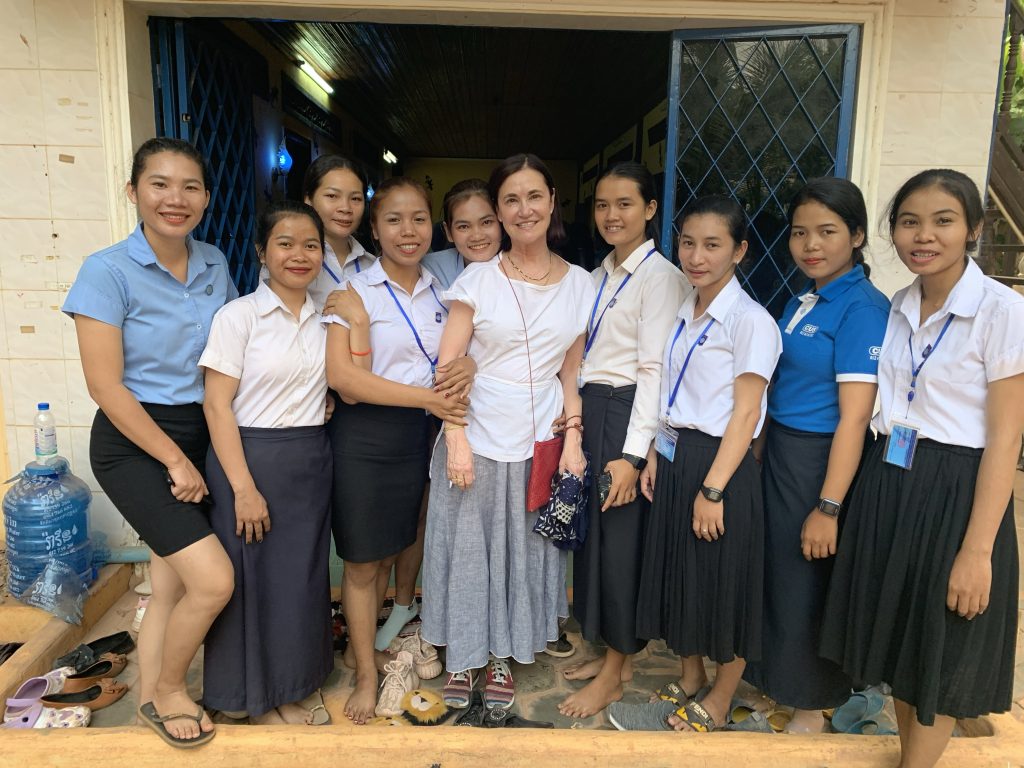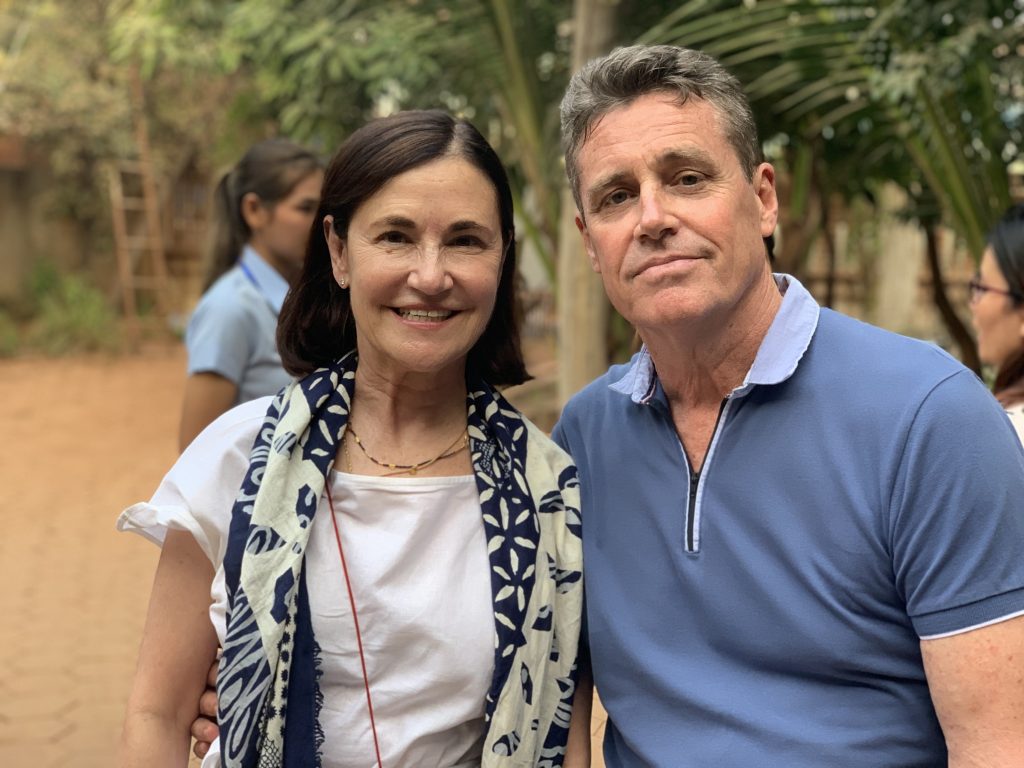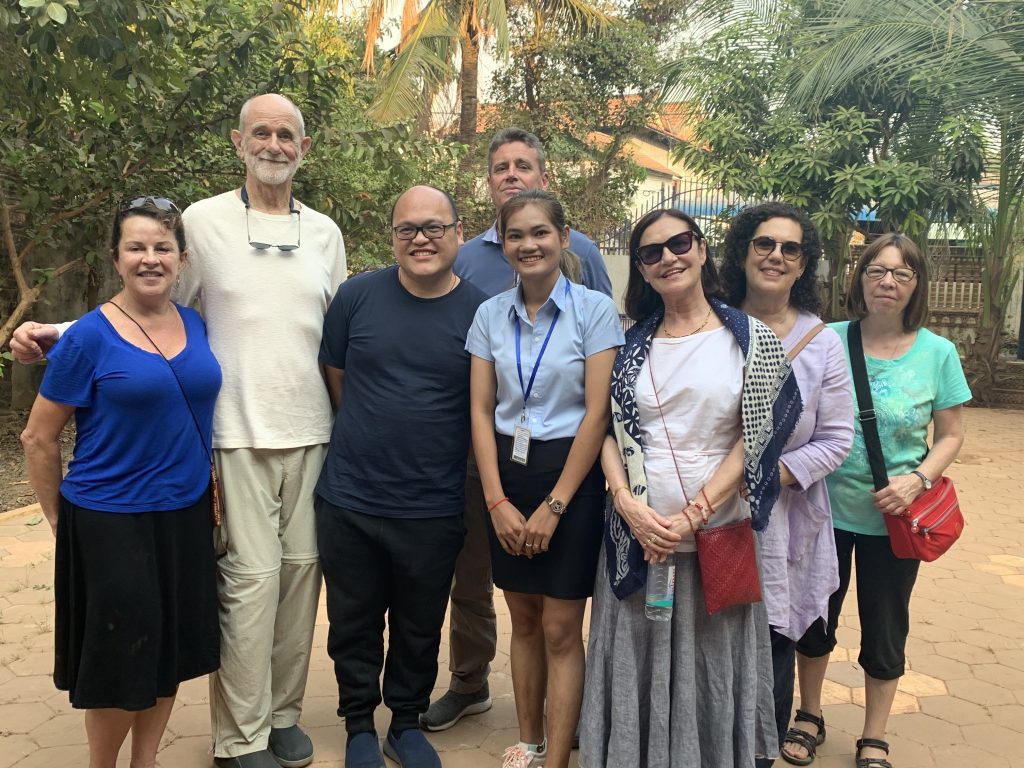 Cambodian society is still recovering from its devastating history— 50 years of war and genocide, including one of the worst mass killings of the 20th century in the years between 1975-1979 under the Khmer Rouge. The middle class were executed leaving the country without its teachers and intellectuals. Today UNICEF reports that only 35% of children continue in school beyond the eighth grade. Not surprisingly, it is the young women and girls who face the greatest challenges, especially those affected by intergenerational poverty.
We address the needs of vulnerable women and girls in Cambodia by supporting access to education, training, mentorship and care. Without help they face extreme poverty, exploitation and are potential victims of trafficking. Lotus Outreach programs uplift and transform their lives. Our beneficiaries gain confidence, skills, independence and the capacity to advocate for one another and their dreams.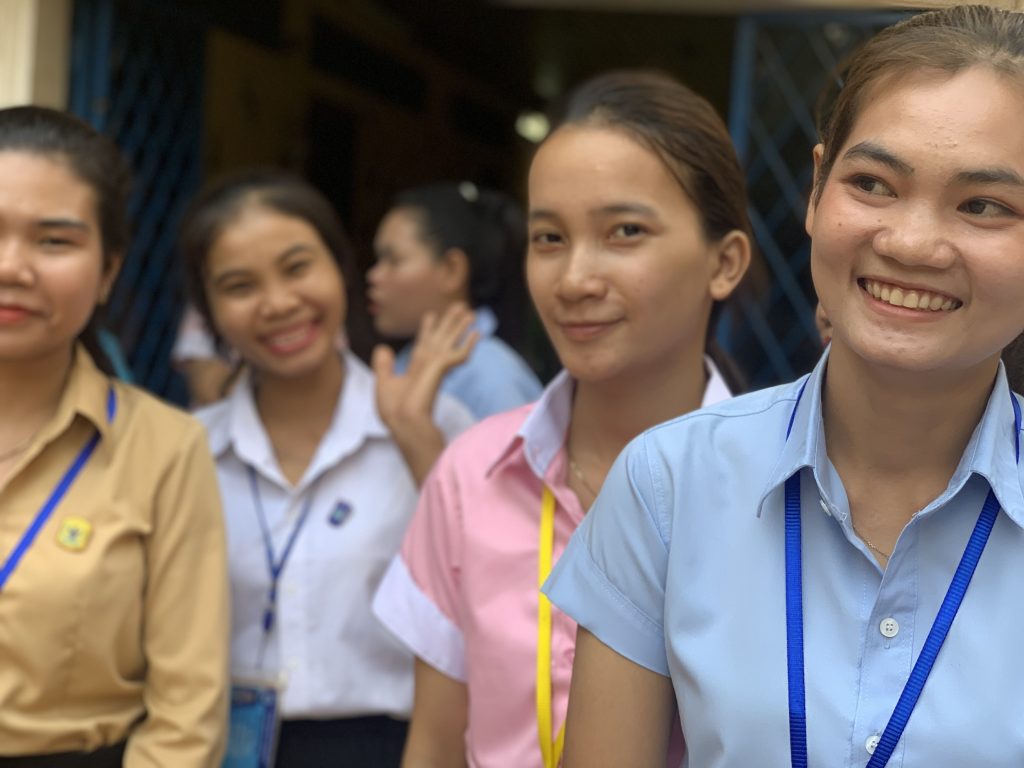 During our week-long visit we met girls that have been scholarship students for over ten years. We visited our CATALYST university scholars' new residential home where 17 students are now living in Siem Reap to focus on their studies, build community, and cost share accommodations. We met a group of 22 high school girls who get to school on the bikes Lotus Pedals provided them. We connected with the incredible breadth of LOCAM. See a simple summary of our activities below:

Day I — BOD arrival and LOCAM presentation.
Day II — Home visits with CATALYST scholars Khy Chakaren and Van Sophin, and stop by new CATALYST residential home to meet 26 of 54 2020 scholars.
Day III — Visit Consoling Through Counseling program with long-term partner Cambodian Women's Crisis Center and see confidential shelter for victims of trafficking and domestic abuse.
Day IV — Visit new Girls Access to Education (GATE) program to meet students, staff, and local education working group. Giveaway 15 bicycles. Conduct two Lotus Pedals home visits. Visit 22 Lotus Pedals bike recipients at their school.
Day V — Visit school where we have installed a filtration system that provides 500 children access to clean water to drink through our Water in Schools (WinS) project. Meet with skills-training partners at Sala Bai and Bayon Pastry and talk with the girls we have placed in their care.
Day VI — Board Meeting and attendance at first annual CATALYST alumnae gathering including opening remarks by Executive Director, Glenn Fawcett, and multiple presentations from young women, dinner and dancing.
Day VII — Angkor Wat tour and board and committee meetings.
On the morning of Day II we went to visit the family home of Chakaran. Her family lives in a small hut with a thatched reed roof in a very poor village of Sonikum District, Siem Reap. We gathered in a semi-circle around Chakaran and her parents on the floor of their hut. Patty Waltcher, Ed Malley, Glenn Fawcett, Julie Chender, Jill Baryluk, Yap Sei Chuan, Patti Lewis and I introduced ourselves. LOCAM team Raksmey Var and Pisey Chea (on whom all our work in Cambodia relies) translated the family's incredible gratitude and joy that LO has supported their daughter since the seventh grade.
Chakaran is in her fourth year of university pursuing a BA in Accounting. She was supported by GATE from seventh grade through high school and is now one of our CATALYST scholars. She said she dreams of opening her own business, but is first committed to helping her parents set up a shop nearby for their family. She described that during recent years they faced a very bad drought and became ill with dengue fever.
Her father, suddenly impassioned, voiced his gratitude that Chakaran had received an education. He recalled to us that when he was a child there were fires at school because of the war and so he went home. "I want my daughter to be educated because I was not able to myself."
Chakaran is dedicated, intuitive, and a bright light to her peers. I asked Pisey, LOCAM Project Officer, about Chakaren. She described, "she usually tries to make people happy. Regardless of her own situation or the obstacles she is facing, she always tries to make people happy."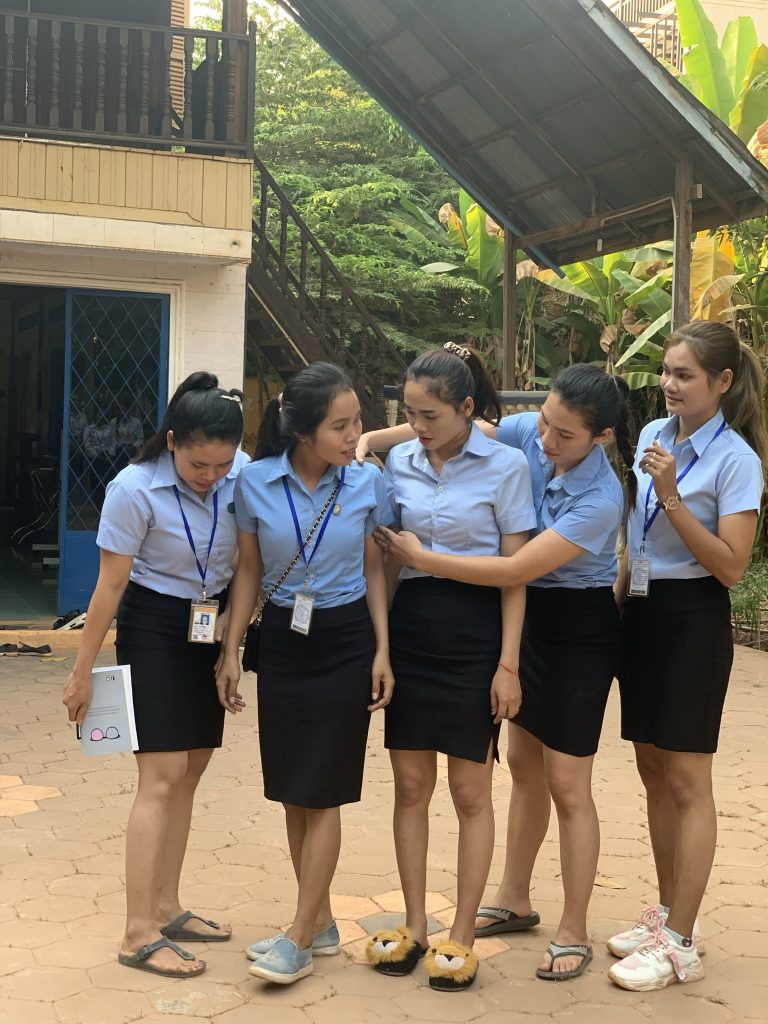 Chakaran's story expresses the heart of what we do. During a final board meeting on the trip, Executive Director, Glenn Fawcett, inspired, said to us all, "Education, training, and care create sustainable change and empowerment. That's why we stick with things for a long time. The bread and butter never changes. What makes people poor doesn't change. What doesn't change is that you have to stick with people for a long time, over time."
It is this conviction that has driven the development of our two largest programs in Cambodia: GATE, which supports girls grades seven through twelve with scholarships, and CATALYST, which supports GATE graduates as university scholars. Chakaran, like many others, will soon become a graduate of both programs.
In 2020, over 260 girls will study in GATE programs made possible through local partnerships with KAPE and CWCC. LO and LOCAM manage 54 supported scholars at the tertiary level through CATALYST. We also place additional girls at exceptional skills-training institutes in Siem Reap and Phnom Penh and direct multiple other connected programs.
On our final night, LOCAM organized the first annual CATALYST Alumnae Gathering. 35 alumnae and 26 current CATALYST scholars attended, poised and capable. It was astonishing that these women had once been selected from the most impoverished and vulnerable conditions. Some of them shared their unique journeys as presentations and afterwards they met as a group. I asked LOCAM Director Raksmey Var what they had discussed. "How to work together to give back," she replied.
When you educate a girl, you transform a community.