500
Children received free tuition in the 2016-17 academic year
15
Different villages were served in the 2016-17 academic year
125
Tribal children attended evening classes in the 2016-17 academic year
Buddha Smiles after school program serves children of poor, illiterate parents. These children are highly disadvantaged, attend inferior schools, have no extra money for tuition and are unable to keep up with their lessons. Buddha Smiles levels the playing field by helping the children keep up with all their subjects and provides added inspiration by applying learning through storytelling and other play approaches.
500 children were served by 15 Buddha Smiles teaching centres during the 2017 academic year: 215 boys and 285 girls. The evening classes program served 125 tribal children at five village based after school centers while another 375 children of illiterate labor and farmers received after school tutoring by Buddha Smiles teachers at 10 different government school based centers in the Vellore area of Tamil Nadu.
500 Children Get Free Tuition
The Buddha Smiles Youth to College program
Buddha Smiles evening classes have been serving poor children of quarry labor, weaving artisans and subsistence farmers for more than 15 years. In 2017 we finally found support to send female and male graduates and local teachers of the Smiles work area to College. All have a keen interest in education for the youth in their communities and have to commute long distances on bicycle and local bus to reach College, especially those living in remote tribal forest areas. In 2017 LO supported 6 youth with College scholarships in Radiology, Botany, Engineering, Chemistry and Commerce.
Stone quarries in southern India's Tamil Nadu state draw unskilled, lower caste laborers who come from all across the region in search of work. Traveling great distances, migrants arrive with their families or even entire communities. Makeshift settlements sprout up with little or no access to clean water, sanitation, or health services.
Highly Disadvantaged Children
For the children of these families, education is an extraordinary challenge. Although public schooling is free, they quickly fall behind and frequently drop out. The root cause? Stone quarry children typically have no adult at home to turn to for help. Parents are often illiterate and less educated than their children.
Buddha Smiles, a network of local volunteer teachers, assists struggling primary school students with free after-school tutoring. For less than $15 per student per year, the program not only reinforces formal teaching of basic literacy and mathematics, but also seeks to inspire in children broader concepts such as critical thinking, conflict resolution, and human rights.
This inexpensive, nimble program generates a rewarding bond for the children and mentors alike, who are then able to pass on an appreciation of education to a population that most stands to benefit from it. Pushing back against class discrimination, Lotus Tutors prepares these disadvantaged children to compete with those from more privileged sectors.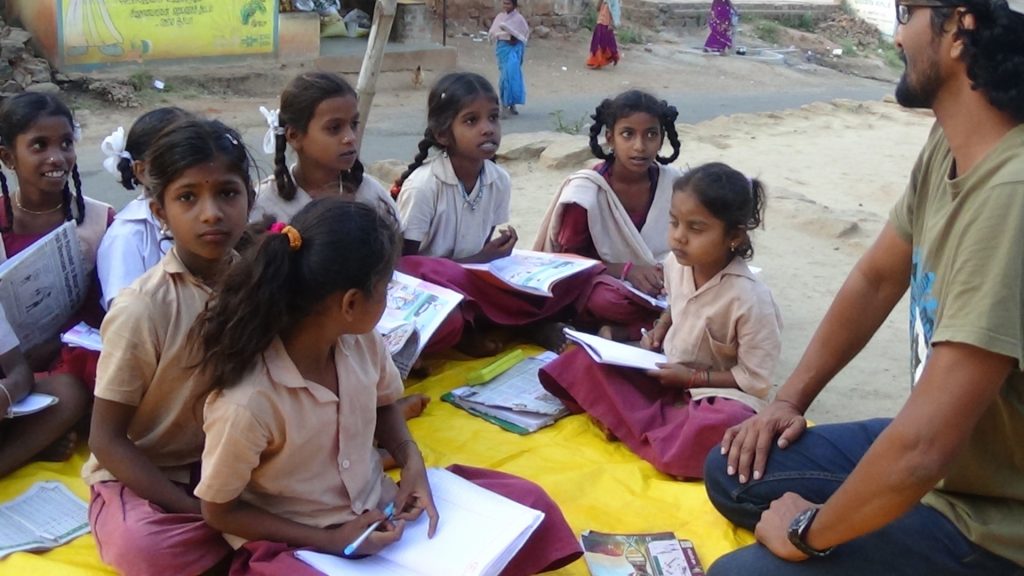 Partner: Spirit in Life Movement
Supported by: Guru Krupa Foundation